COMMUNITY INVOLVEMENT
---
McDonald's brand is proud to say that we are actively involved in all aspects of our local communities as well as national and international charities.
David Costa Enterprises take the involvement to the next level. We are members of several local Chamber of Commerce groups. We are always seen in annual Christmas Parades and we strongly believe in supporting our local schools.
Each of our McDonald's Restaurants makes a strong effort to be actively involved in the fundraising efforts, as we well as the support for each school in our community.
We are committed to the community and have set up this site to make it easy for charitable organizations, churches, and schools to request many services that Costa Enterprises offers our community.
McPlayroom
Costa Enterprises McDonald's donated $100,000 to create a playroom in the Studer Family Children's Hospital at Ascension Sacred Heart. The playroom opened up inside the Ronald McDonald House Family Room, a 2,800-square-foot space located next to the neonatal intensive care unit on the second floor of the children's hospital. The newly added "McPlayroom" offers children of the Ronald McDonald House families a place to unwind, relax, play, and have fun while their siblings or family members are being cared for in the hospital. Costa Enterprises has also been incorporating some of their signature playland décor, similar to what you would find in one of their restaurants, into the new "McPlayroom."
Hurricane Michael Relief
In August of 2019, Costa Enterprises McDonald's gifted one of their area supervisors, Brad Denley, and his family with a new home located in Southport, Fla.
After Hurricane Michael, Denley and his family suffered minor damage to their rental home, however, their lease was up, and the owners decided to sell. With the housing market being extremely tough after the storm, Denley and his family were being forced to look for a home out of the area that could meet their needs. This meant Denley and his wife would have to pick up, find new jobs, and transfer their children to new schools, something they were reluctant to do. Costa Enterprises decided to get involved and help the Denley family find a home that was perfect in size for their large family in the heart of Southport.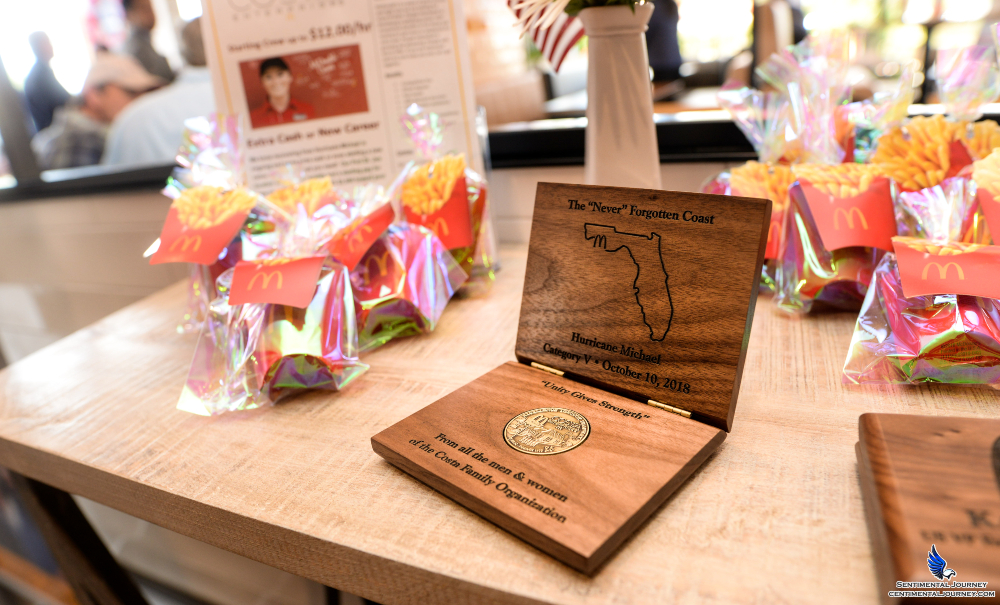 Niceville High School
Niceville High School
Costa Enterprises McDonald's take great pride in the local schools surrounding their restaurants. Costa has partnered with some parent-led organizations to bring meals and snacks to student athletes as they prepared for playoffs and championship games. Most recently, Costa Enterprises delivered hot apple pies to the Niceville High School football team after practice before they head into Friday night's playoff game. The Costa team also brought breakfast sandwiches to the Niceville High School men's varsity soccer team before they loaded the bus to the state championship game.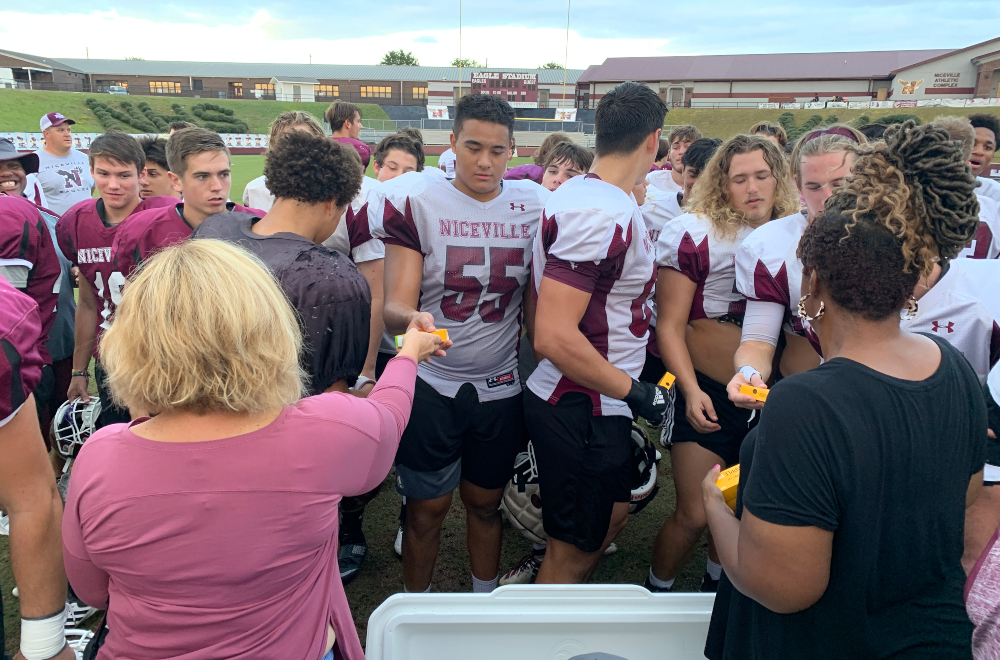 Teacher Cards and Teacher Nights
Teacher Cards and Teacher NightsThe Teacher Appreciation Cards is a small gesture to thank the teachers, faculty, and staff members who are dedicated to serving their students day in and day out. The Costa team hand delivers gift cards to all local high schools, middle schools, and elementary schools surrounding their 24 stores. Thousands of educators and teachers across Northwest Florida will receive these cards to be used at their local McDonald's.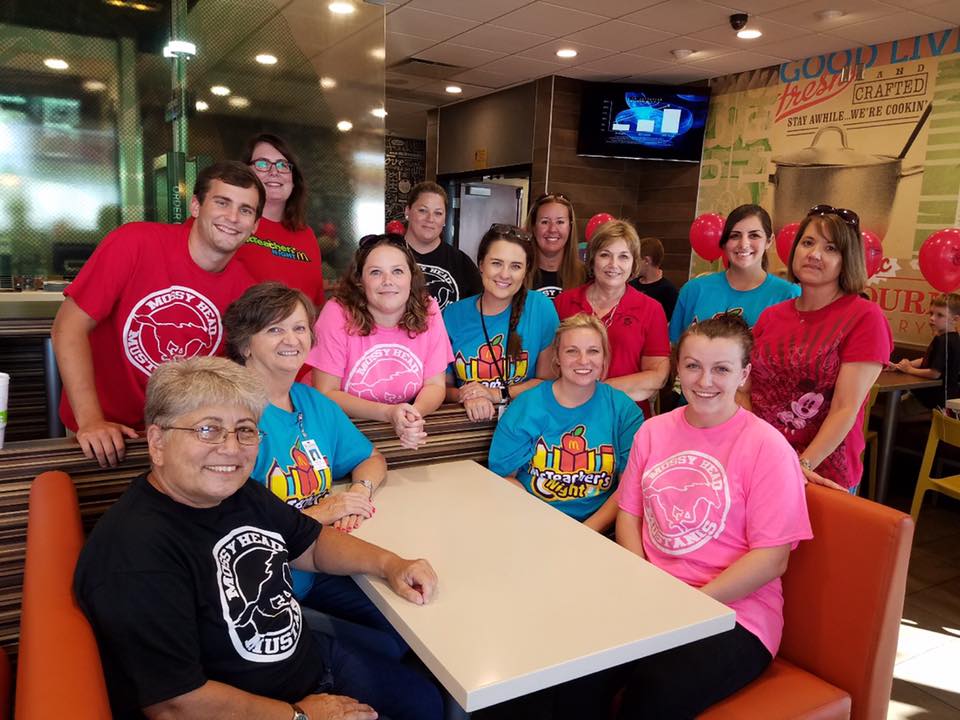 Emerald Coast Children's Advocacy Center
Costa Enterprises McDonald's sponsored and decorated a room at the Emerald Coast Children's Advocacy Center.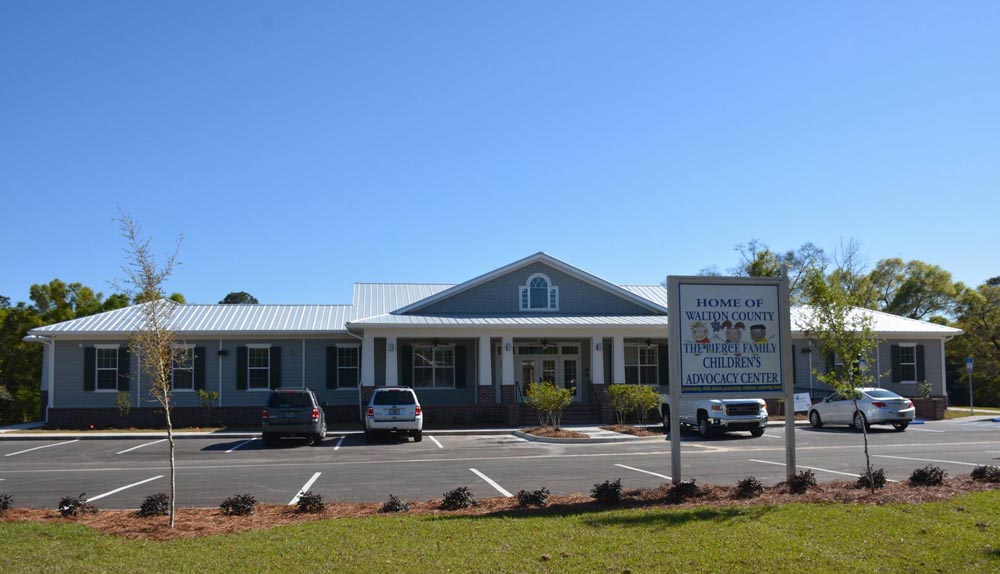 Archways to Opportunity
Archways to Opportunity
Archways to Opportunity is a comprehensive education strategy with multiple programs that give people an opportunity to grow and learn – no matter where they are on their journey.

Programs are available to McDonald's employees and the employees of participating independent franchisees.

"The Archways to Opportunity program gave me the chance to work toward and receive my AA degree in December 2018. Because of Archways, I was able to really focus on my classes without worrying about how to pay for them. I hope to continue my Bachelors through this program as well!" – Jackie Wells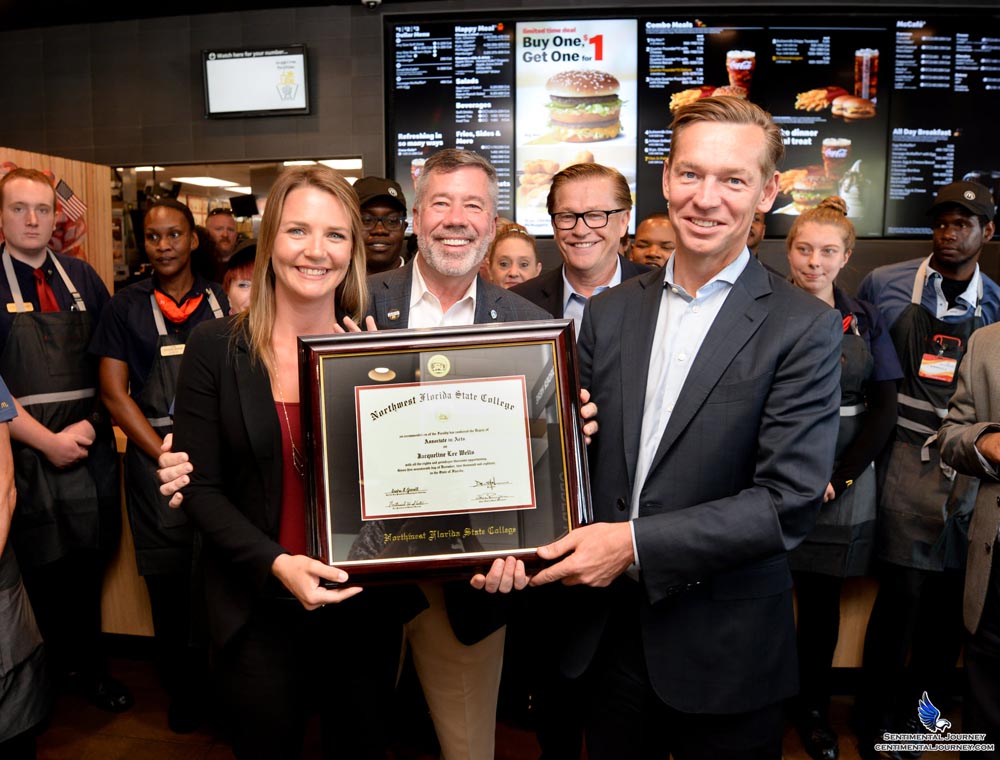 McCafe for a Cause
Costa Enterprises launched "McCafé with a Cause" in March 2016 at all of its McDonald's locations throughout Northwest Florida. For every McCafé coffee purchased on Mondays throughout the year, Costa donates 50 percent of their coffee proceeds to a different local charity each month.
"McCafé with a Cause" supports various charities including Breast Cancer Awareness (Making Strides Against Breast Cancer), Fisher House Foundation of the Emerald Coast, Children in Crisis, Children's Advocacy Center, Fellowship of Christian Athletes, Taylor Haugen Foundation, Little Star Foundation, Ronald McDonald House Charities, EOD Warrior Foundation, Boys and Girls Club of Northwest Florida, and Autism Society.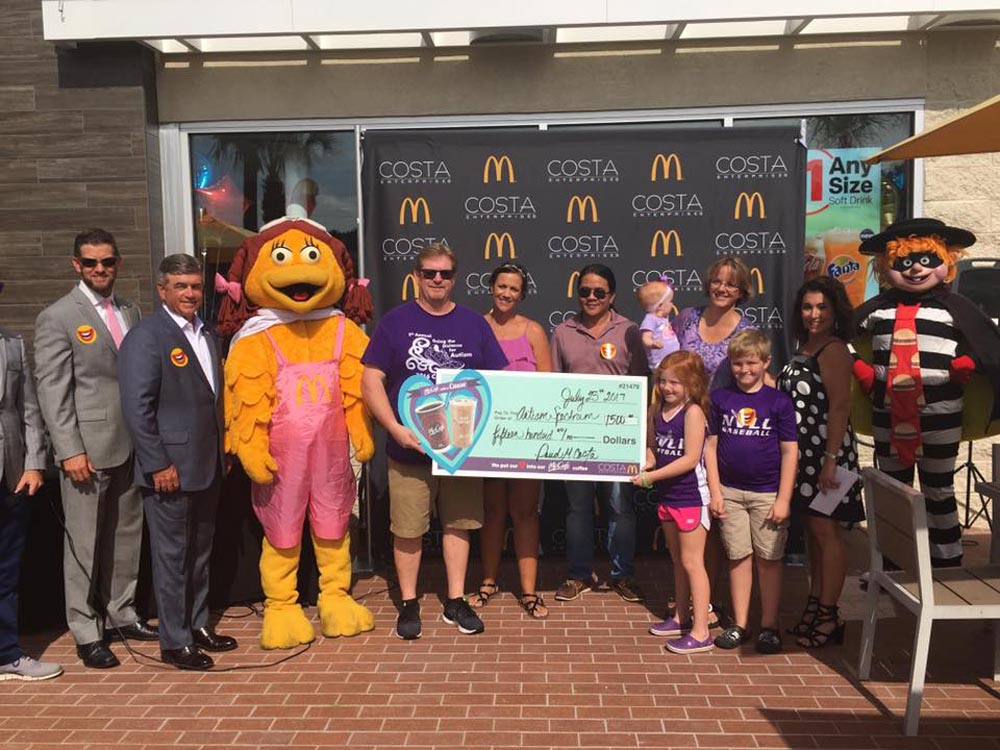 Fellowship of Christian Athletes
For the past four years, Costa Enterprises McDonald's has served breakfast to over 1,100 local student athletes and coaches at the All Sports Association's Annual Fellowship of Christian Athletes (FCA) Breakfast hosted at Northwest Florida State College's Raider Stadium. Student athletes from Okaloosa, Walton, and Santa Rosa County high schools and middle schools attend the event for breakfast and Christian fellowship. Costa Enterprises McDonald's donate and personally serve some of their classic breakfast offerings including sausage biscuit sandwiches, parfaits, apple slices, pastries, and coffee to everyone in attendance.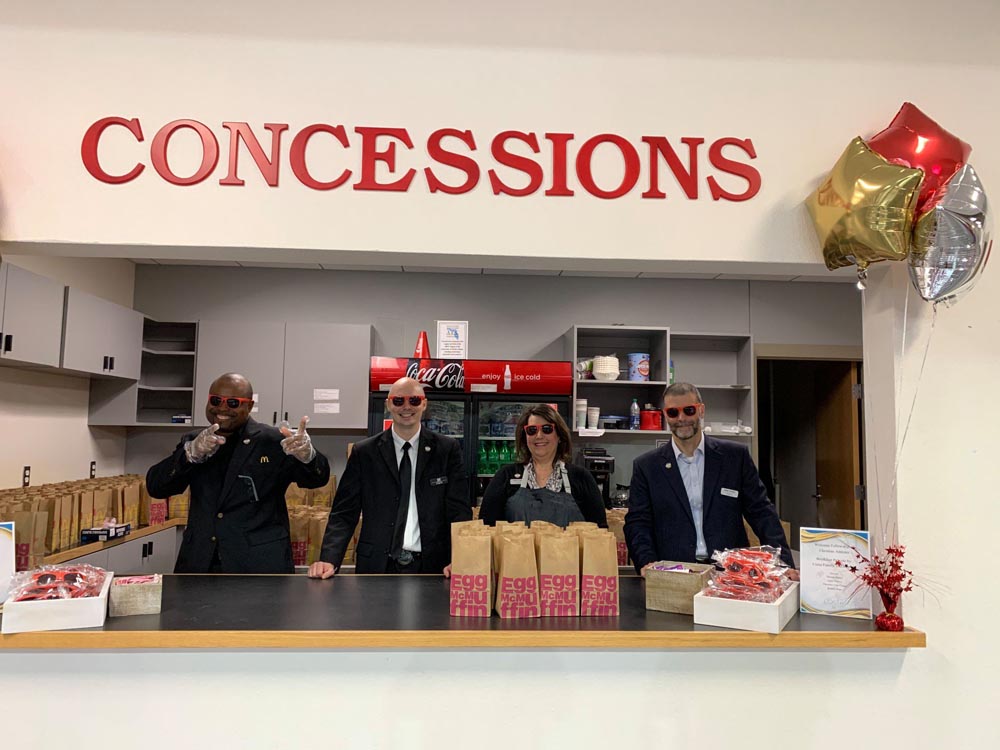 Meals for Heroes
Costa Enterprises McDonald's served 9,056 free combo meals to medical workers as a part of their "Free Meals for Heroes" initiative which launched on Wednesday, March 18, 2020 and ended on Tuesday, March 31, 2020. Costa Enterprises McDonald's created the initiative as a way to say "thank you" to all of the men and women who have been dedicating their time and putting themselves at risk to work in their medical professions during this global pandemic. While most of the population is self-quarantining or practicing social-distancing, hospital workers have been continuing to work diligently and operating normal and extended hours.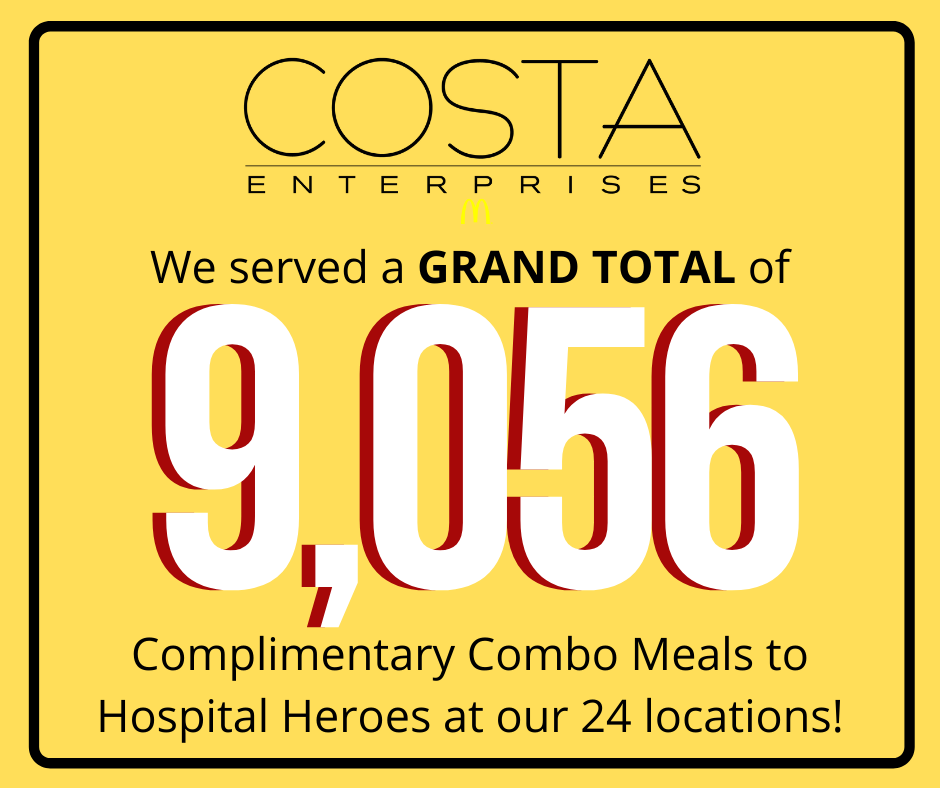 Costa Leadership Institute at NW Florida State
The Costa Leadership Institute at Northwest Florida State College provides professional and business skills training, including Computer/Technology, Leadership, Communications, Exam Preparation, Certification Courses, Certification Exams, Continuing Education Units for Designated Professionals, and more to all students at the Professional and Continuing Education Department. Taught by experienced professionals, these programs are for all ages and offered during the morning, afternoon, evening, and weekends, convenient for people with busy lives.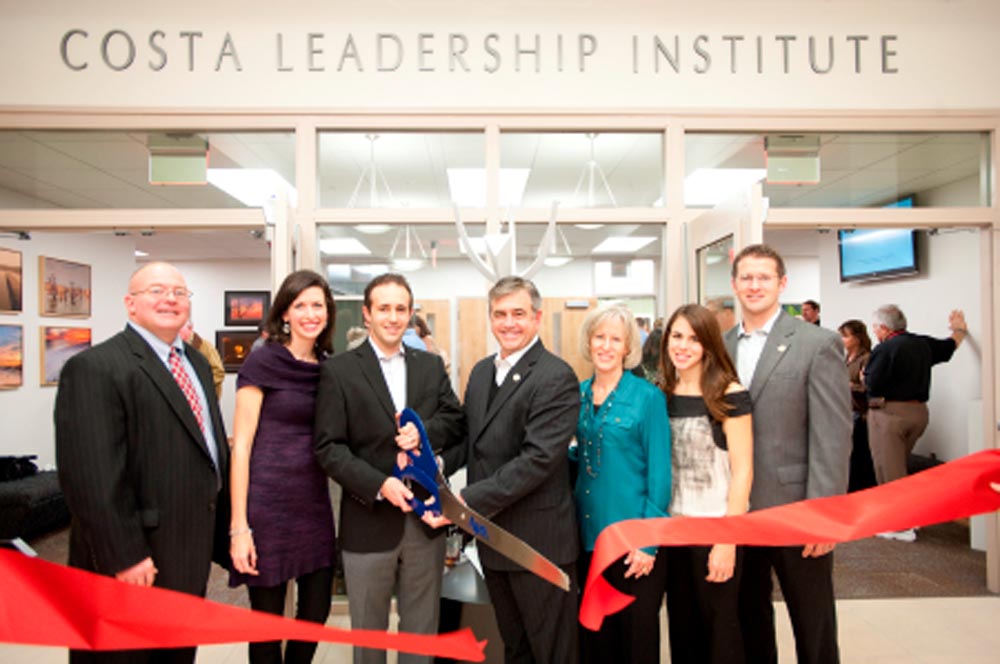 Additional organizations Costa Enterprises has benefitted in the past include:
Gulf Coast Domestic Violence Task Force
New Mount Olive Baptist Church VBS